Caney Creek: The Legend of Alice Loyd
SCREENPLAY and STORY by Michael Johnathon
T
he "Dances with Wolves" of Appalachia.

_
"CANEY CREEK: The Legend of Alice Lloyd" is a motion picture that tells the dramatic, true story of Alice Lloyd. It is the journey of a strong, independent woman set in Appalachia, one of the most romantic, misunderstood regions of America.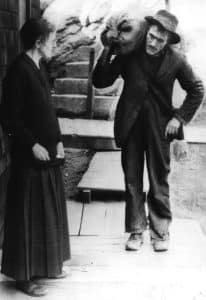 ONCE UPON A TIME
There was a woman from Boston, a 40 year old journalist at the Boston Globe who had a stroke and her doctors recommended she move south to a warmer climate. Her pastor offered in abandoned missionary home in Knott county KY and she move there in November 1915. It ended up being a very cold and brutal winter but a mountain man had a dream that she would teach his children to read. So he hiked across two mountains in the snow in the middle of the night and offered her his property as payment if she would move to his holler in Knott County. This is an incredible story of heart, passion, loyalty and friendship. It is the cinematic story of Appalachia, one of the most mysterious, magical and mystical places in America.
"Caney Creek: The Legend of Alice Lloyd" climaxes in 1955 when, although faced with bankruptcy and the end of her life, she journeys to California and appears on the NBC broadcast of Ralph Edwards "This Is Your Life" television program.
WATCH this SYNOPSIS of the Caney Creek script

(4-minutes)